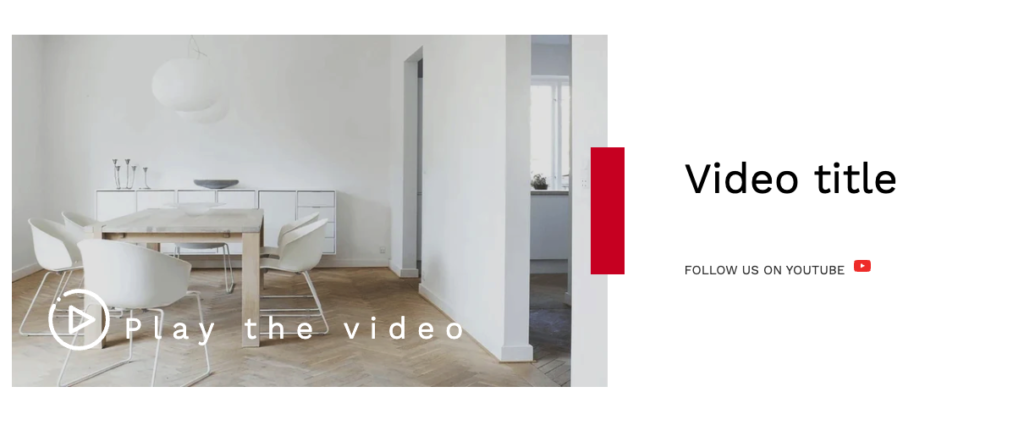 Content settings
Settings
Description
Image
This is the main image of the video section.
Image height
Adapt to image: Uses the aspect ratio of the collection images is cropped.
Small: This is the smallest height of the lookbook image. Desktop height: 314px, Mobile height: 194px
Medium: This is the medium height of the lookbook image. Desktop height: 500px, Mobile height: 300px
Large: This is the maximum height of the lookbook image. Desktop height: 695px, Mobile height: 435px
Desktop image placement
Image first: Displays the image on the left.
Image second: Displays the text on the left.

The image first is the default mobile layout.
Overlay opacity
You can add an overlay on the image from 0 to 100%.
Heading
RichText: This is the heading for the lookbook section. Learn more about RichText Editor
Heading size
Large: This is the large text size of the section heading. Desktop size: 50px, Mobile Size: 30px
Medium (Default): This is the medium text size of the section heading. Desktop size: 40px, Mobile Size: 28px
Small: This is the medium text size of the section heading. Desktop size: 32px, Mobile Size: 25px
Content
This is the text for the video section.
Button label
This is a button for a single slide. Leave the label blank to hide the button.
Button link
This is a link for the button.
Button style
Primary: Use a solid background button style
Secondary: Use outline button style
Button size
You can change the button size follow the options, (Large, medium, small)
Color scheme
This is a color scheme option to change the color of the section
Video settings
Settings
Description
URL
You can add YouTube or Vimeo video URLs.
Video alt text
This ALT test for the video. Describe the video to make it accessible for customers using screen readers.
Mute video
You can mute/unmute video sound.
Play button text
This is the text of the play button text.
Text color
You can change the color of the play button text.
Play button position
You can change position follow the options,
– Top left
– Top right
– Bottom left (default)
– Bottom right
– Center
NOTE: Position is automatically optimized for mobile.
Make section full width
You can display images and content full width in a section container.
Round Corner
If you enable it, the section corners will be rounded.
Section padding
| | |
| --- | --- |
| Settings | Description |
| Desktop: Padding top | The section's top inner space height is determined. From 0 to 150 px, will be incremented by 5px. It will affect the desktop. |
| Desktop: Padding bottom | The section's bottom inner space height is determined. From 0 to 150 px, will be incremented by 5px. It will affect the desktop. |
| Mobile: Padding top | The section's top inner space height is determined. From 0 to 150 px, will be incremented by 5px. It will affect the mobile. |
| Mobile: Padding bottom | The section's bottom inner space height is determined. From 0 to 150 px, will be incremented by 5px. It will affect the desktop. |